Dear MIT alumni and friends,
The past year has given us indisputable proof that the MIT community can thrive in even the toughest conditions. Throughout the pandemic, we have remained connected, focused and productive even when scattered across vast distances, maintaining our curiosity, creativity and compassion under relentless pressure and in the face of constant change.
We have been able to do all this because your annual giving is our launch pad. Beyond MIT's immeasurable talent, passion and drive, it is the generosity of our family of alumni and friends that allows us to get off the ground.
When the pandemic first hit home, we quickly realized that, to complete the spring semester, we needed to bring MIT's entire curriculum online. Faculty did it in two weeks — setting up classrooms, labs and studios in their offices and homes. We loaned out laptops and wireless hotspots to keep our students connected, and increased scholarship aid to replace lost work-study income.
At a time of crisis, we were able to meet our students' needs — because your unrestricted gifts gave us flexibility and a base of financial strength.
In fall 2020, we were faced with another herculean task: putting a whole year of MIT online. How could we offer an authentic MIT education to students scattered across 24 time zones? Once again, powered by your support, we set out to discover creative alternatives.
Take 2.007, the iconic mechanical engineering class in which students not only build robots but test them against each other in live competition. How could this translate to an online class? To start, each student was sent a kit of tools and materials to build their robot. As a theme for the competition, Professors Maria Yang '91 and Amos Winter SM '05, PhD '11 decided on "Home Alone, Together," playing off the classic movie in which a boy named Kevin finds ingenious ways to defend his home against two bungling burglars. Each student built a small-scale model of Kevin's house to serve as the gameboard, so they could record their robots striving to perform a set of tasks against the clock. Thanks to a great deal of old-fashioned MIT ingenuity — and thanks to you — our first global, virtual robot competition was born.
Other inspiring responses to this challenging year: In Urban Studies and Planning, Professors Janelle Knox-Hayes and Lawrence Susskind MCP '70, PhD '73 opened their Indigenous Environmental Planning class to the public, inviting Native American speakers to explore indigenous approaches to natural resource management. The result was a rich learning experience, and new connections with local communities.
In Music and Theater Arts, students in Ken Urban's popular Playwrights Lab were able to work with award-winning Broadway actors. And our students got to know scientific stars, too. Biology chair Alan Grossman gathered a remarkable suite of experts to present a live class on the science of the pandemic. Speakers included biologist and Nobel laureate David Baltimore; the Broad Institute's Eric Lander (now science advisor to President Biden); and Kizzmekia Corbett of the NIH Vaccine Research Center. Corbett spoke about vaccine development just days after Pfizer-BioNTech announced the results of its first clinical trial.
Your unrestricted support allows us to engage deeply with unexpected challenges and, at the same time, look toward new horizons.
The Institute is also mobilizing against the existential challenge of climate change. Fast Forward: MIT's Climate Action Plan for the Decade encompasses a range of initiatives to help society bring net carbon emissions to zero by 2050. For our Climate Grand Challenges, we asked our faculty to tell us which difficult climate problems are the most difficult — and to suggest bold solutions. Nearly 100 ideas flowed in. From this inspiring set of options, we will award funding to those with the greatest potential for significant impact at scale.
With the support of our worldwide family of alumni and friends, there is no limit to the problems MIT can solve. We are united and galvanized by the opportunity to advance knowledge and innovation for the benefit of society. Across all five schools and the Stephen A. Schwarzman College of Computing, your confidence in MIT fuels our research enterprise, giving us the freedom to explore the "impractical" ideas that may become tomorrow's breakthrough ideas. We could not be more grateful that, year after year, you power our mission to make a better world.
Sincerely,


L. Rafael Reif
P.S. Gifts from alumni and friends, like you, are critical to our efforts to continually meet our global challenges through the vision and talent of the people of MIT. I hope we can count on your support this year.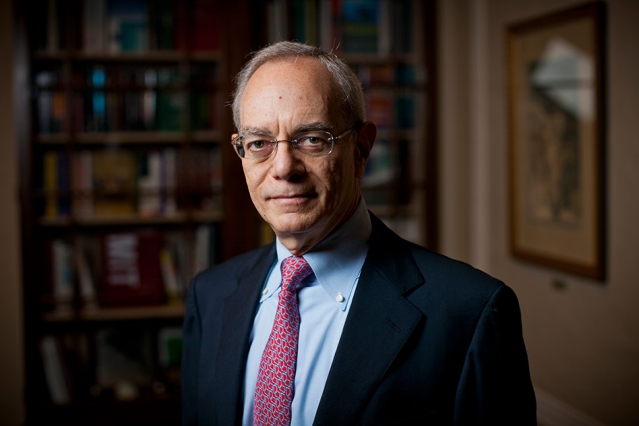 L. Rafael Reif
is President of the Massachusetts Institute of Technology.